So I figured this thread is on MarchingBandPlanet so why not bring it here?Basicly you can post a picture of yourself or your band or even your insturment or what ever you want... lol. Why you may ask? Well cus... I dont know its fun I guess?
I'll start..
Haha I dont know if I was chuckin the duece or tryin to do the "Hook 'Em".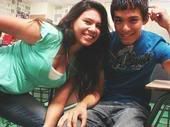 Yeah just there...
EDIT- I took off the picture of my band cause it's kinda big and this page already takes forver to load.
Edit again- Put a better one, mwahahahaha.